Seaguar
Regular price
KSh4,120.00
Regular price
Sale price
KSh4,120.00
Unit price
per
Sale
Sold out
Delivery 7 - 12 Working Days
Temporary delay in our standard delivery times is anticpated due to the Black Friday event
Delivery Time

Our delivery time typically ranges from 7 to 12 business days.

Please note that fishing rod orders may experience a slight delay of 2 - 4 business days due to the bulky nature of the item.
Delivery Fee

Delivery fees vary depending on order value

Order Value - Delivery Fee

Under Ksh 4,999 - Ksh 1,000
Ksh 5,000 to Ksh 14,999 - Ksh 500
Above Ksh 15,000 - Free Shipping
View full details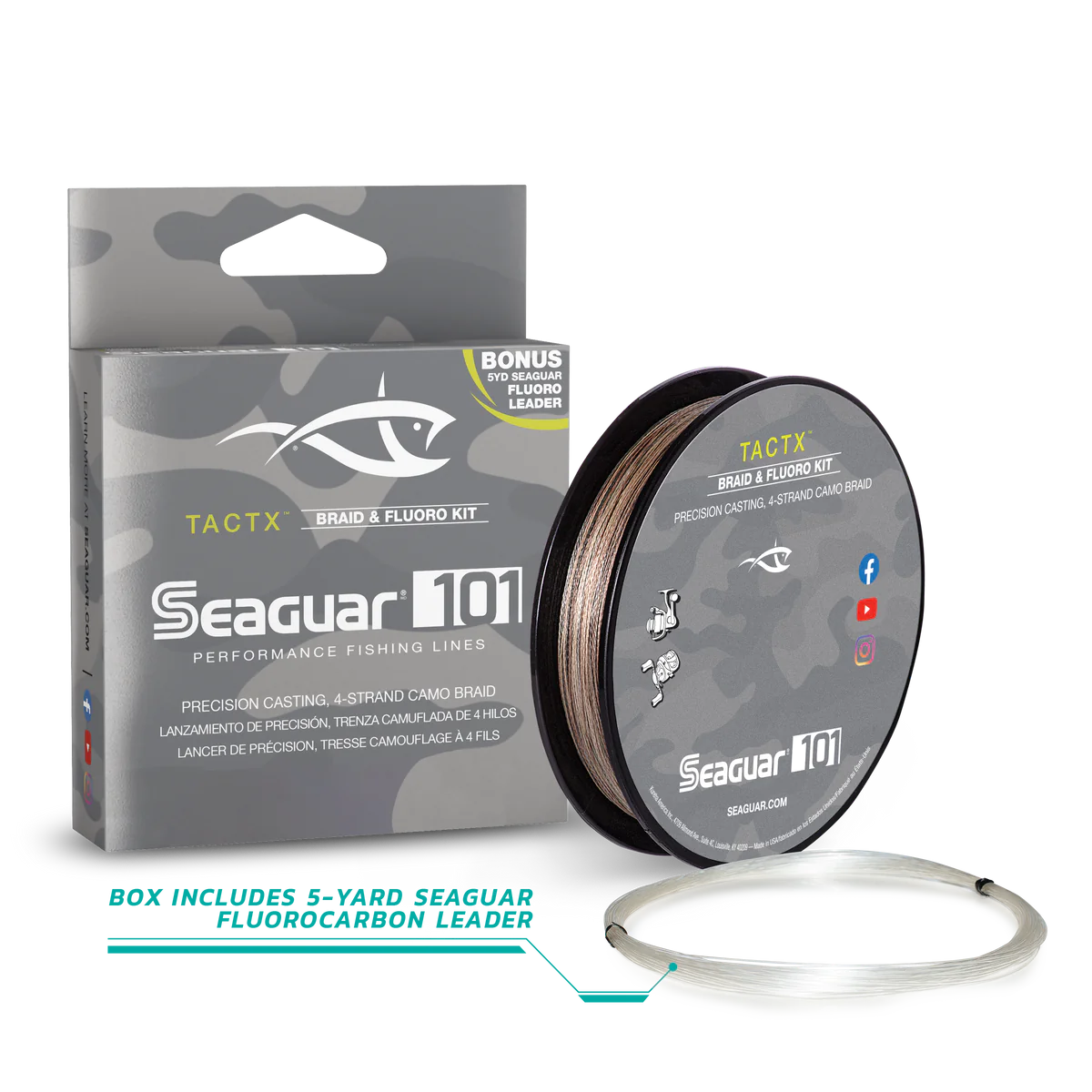 Product Description
Features:
Seaguar TactX Camo Braid is a new precision-casting, 4 strand camo braided line from Seaguar. Also comes with a 5 yard section of matched fluorocarbon leader for added stealth.
TactX is randomly camo colored, which actually makes it less visible underwater. Tie the fluorocarbon leader to the TactX braid and then to your lure to keep your presentation as natural as possible.
Round and rough texture to help cut through vegetation and add durability. It's firm, round profile casts better and reduces wind knots.
Strong, Castable and Abrasion Resistant, this line is great for fishing vegetation as well as a solid performer for bank anglers. Great knot and tensile strength.
Several pound test options available in a 150 and 300 yard spool options. 5 yard fluoro leader matched to braid on diameter. Seaguar quality at a budget-friendly price.
Performance features make Seaguar TactX Camo Braid a perfect choice for everyday anglers. Seaguar TactX is engineered to maintain its perfectly round shape and stay firm to minimize rod tip wrapping and wind knots. It packs tightly on your reel without cutting into itself to help reduce backlashes too. This is an all around braid that combines excellent castability, abrasion resistance and overall strength with a "pebble" texture to add durability and help it cut through vegetation. It's woven from multi-color earth-tone strands that are heat-set for better color retention and to create a natural camo color that reduces line visibility.

10 lb TactX Camo Braid comes with 6 lb Fluorocarbon 5 yd Leader
15 lb TactX Camo Braid comes with 8 lb Fluorocarbon 5 yd Leader
20 lb TactX Camo Braid comes with 10 lb Fluorocarbon 5 yd Leader
30 lb TactX Camo Braid comes with 12 lb Fluorocarbon 5 yd Leader
40 lb TactX Camo Braid comes with 15 lb Fluorocarbon 5 yd Leader
50 lb TactX Camo Braid comes with 20 lb Fluorocarbon 5 yd Leader
65 lb TactX Camo Braid comes with 20 lb Fluorocarbon 5 yd Leader
80 lb TactX Camo Braid comes with 25 lb Fluorocarbon 5 yd Leader