Scientific Anglers
Regular price
KSh2,240.00
Regular price
Sale price
KSh2,240.00
Unit price
per
Sale
Sold out
Delivery 7 - 12 Working Days
Temporary delay in our standard delivery times is anticpated due to the Black Friday event
Delivery Time

Our delivery time typically ranges from 7 to 12 business days.

Please note that fishing rod orders may experience a slight delay of 2 - 4 business days due to the bulky nature of the item.
Delivery Fee

Delivery fees vary depending on order value

Order Value - Delivery Fee

Under Ksh 4,999 - Ksh 1,000
Ksh 5,000 to Ksh 14,999 - Ksh 500
Above Ksh 15,000 - Free Shipping
View full details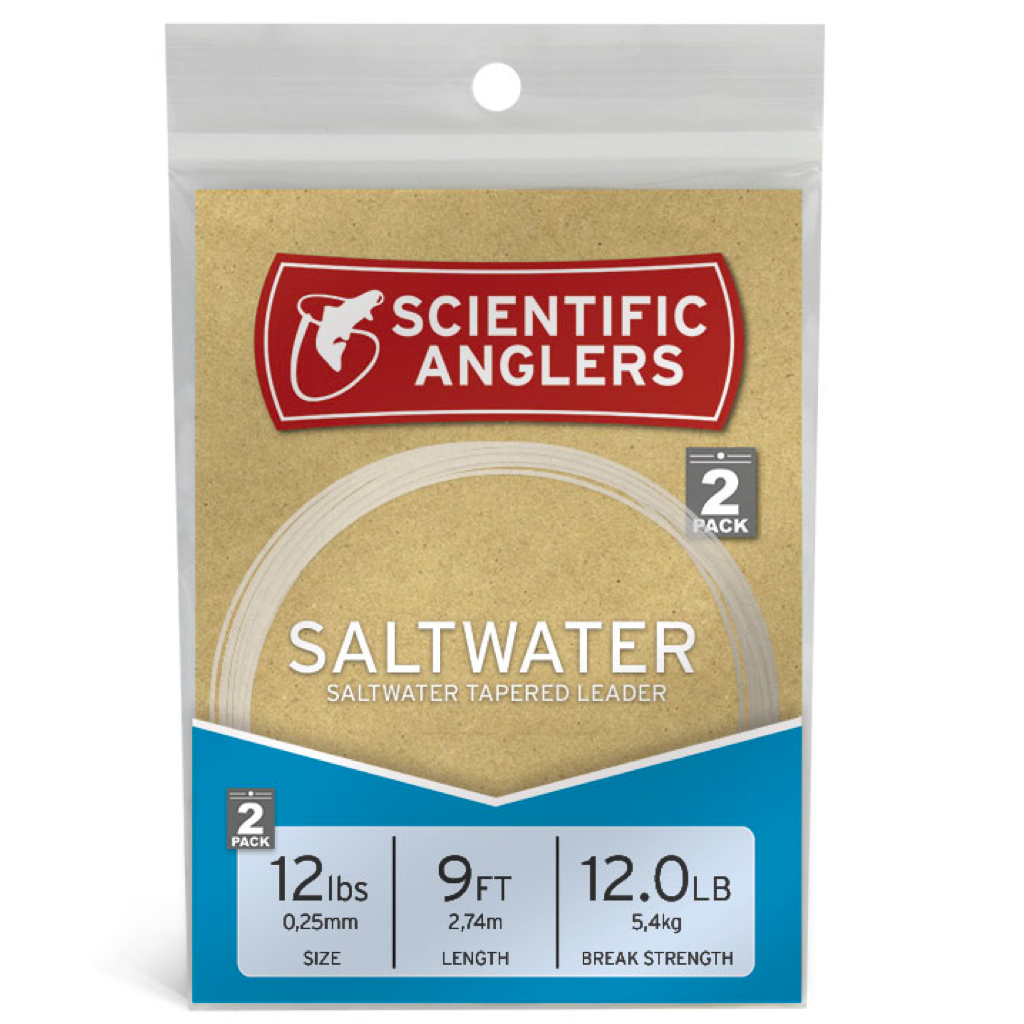 Product Description
Designed with low visibility in mind for fish on the flats, our nylon Saltwater leaders are perfect for chasing permit, redfish, bonefish, and other saltwater game. The unique taper helps turn over flies and three different breaking strengths help you dial in your presentation. They feature the highest wet knot strength in the industry. You can fish the other stuff, or you can Fish the Truth.
2 Leaders Per Package
Lengths: 9€™, 12€™, 15€™
Designed for saltwater flats
Low visibility for wary fish
Unique taper enhances turnover and accuracy, even in heavy wind
| | | | | |
| --- | --- | --- | --- | --- |
| LENGTH | SIZE | TIPPET DIAMETER | BUTT DIAMETER | BREAK STRENGTH |
| 9€™ | 8 lbs | 0.008€� / .20 mm | 0.021€� / .53 mm | 8 lb / 3,6 kg |
| 9€™ | 10 lbs | 0.009€� / .23 mm | 0.022€� / .56 mm | 10 lb / 4,5 kg |
| 9€™ | 12 lbs | 0.010€� / .25 mm | 0.022€� / .56 mm | 12 lb / 5,4 kg |
| 9€™ | 14 lbs | 0.011€� / .28 mm | 0.022€� / .56 mm | 14 lb / 6,4 kg |
| 9€™ | 16 lbs | 0.012€� / .30 mm | 0.026€� / .67 mm | 16 lb / 7,3 kg |
| 9€™ | 18 lbs | 0.013€� / .33 mm | 0.026€� / .67 mm | 18 lb / 8,2 kg |
| 12€™ | 14 lbs | 0.011€� / .28 mm | 0.022€� / .56 mm | 14 lb / 6,4 kg |
| 12€™ | 16 lbs | 0.012€� / .30 mm | 0.026€� / .67 mm | 16 lb / 7,3 kg |
| 12€™ | 18 lbs | 0.013€� / .33 mm | 0.026€� / .67 mm | 18 lb / 8,2 kg |
| 15€™ | 14 lbs | 0.011€� / .28 mm | 0.022€� / .56 mm | 14 lb / 6,4 kg |
| 15€™ | 16 lbs | 0.012€� / .30 mm | 0.026€� / .66 mm | 16 lb / 7,3 kg |
| 15€™ | 18 lbs | 0.013€� / .33 mm | 0.026€� / .67 mm | 18 lb / 8,2 kg |