Scientific Anglers
Regular price
KSh2,240.00
Regular price
Sale price
KSh2,240.00
Unit price
per
Sale
Sold out
Delivery 7 - 12 Working Days
Delivery Time

Our delivery time typically ranges from 7 to 12 business days.

Please note that fishing rod orders may experience a slight delay of 2 - 4 business days due to the bulky nature of the item.
Delivery Fee

Delivery fees vary depending on order value

Order Value - Delivery Fee

Under Ksh 4,999 - Ksh 1,000
Ksh 5,000 to Ksh 14,999 - Ksh 500
Above Ksh 15,000 - Free Shipping
View full details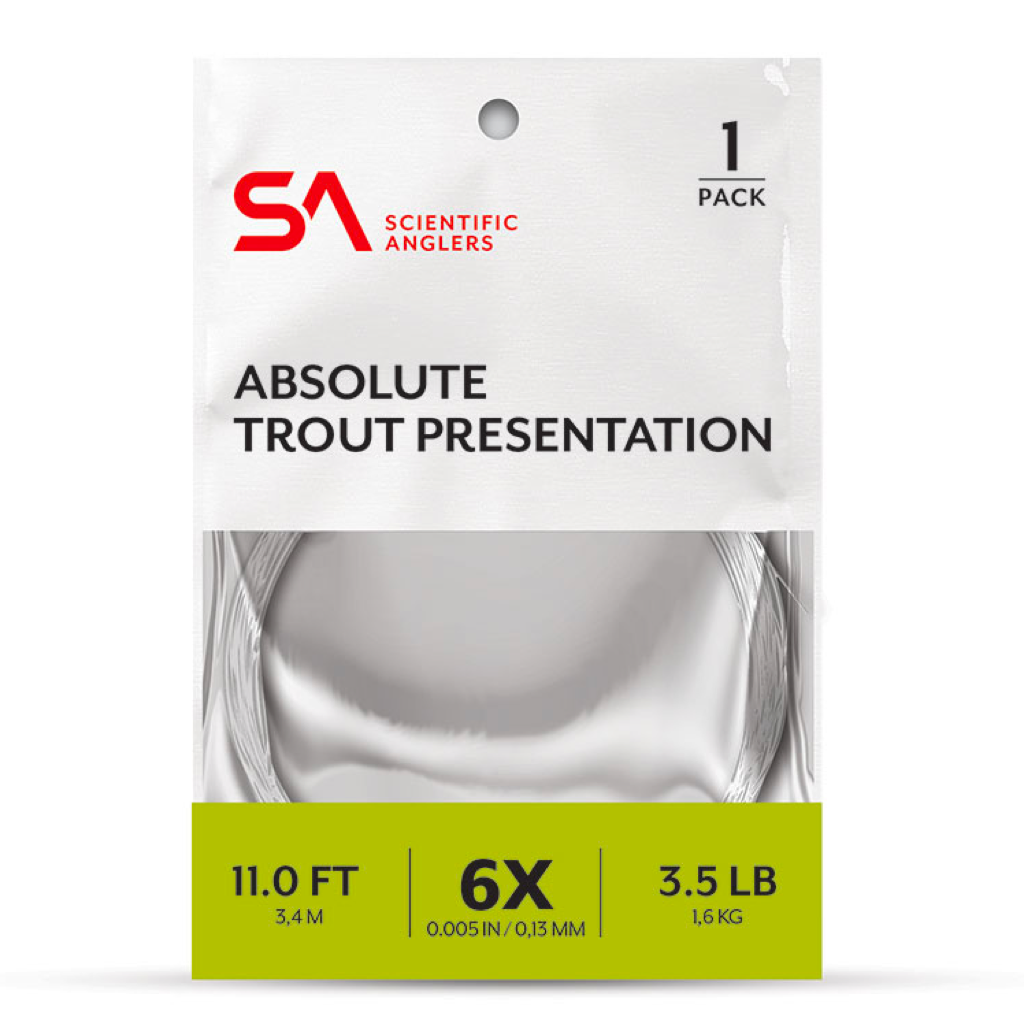 Product Description
Absolute leaders are made with proprietary copolymer blends that are designed to drastically reduce water absorption while maintaining an optimal suppleness for high knot strength. Absolute nylon leaders and tippet have a 29% higher wet knot strength compared to our previous material and up to 40% higher wet knot strength when compared to our competitors. Our new paper-based leader packaging is now 100% recyclable. All materials, inks, and window are fully biodegradable to protect our streams and reduce our environmental footprint. Please don€™t litter.

Features:
Large butts to turn over longer length with ease
Progressive taper delicately delivers fly
Supple Material for drag free drifts
Lengths- 11' 0-6X, 14' 3-5X
Fishing Type: Dries, Indicators, Nymphs, Big Dries, General, Stillwater
Length: 11 ft, 14 ft
Material: Nylon
Water Type: Freshwater
Species: Trout
| | | | | |
| --- | --- | --- | --- | --- |
| LENGTH | SIZE | TIPPET DIAMETER | BUTT DIAMETER | BREAK STRENGTH |
| 11€™ | 6x | 0.005€� / 0.13 MM | 0.024€� / 0.61 MM | 3.5 LB / 1,6KG |
| 11€™ | 5x | 0.006€� / 0.15 MM | 0.024€� / 0.61 MM | 5.9 LB / 2,7KG |
| 11€™ | 4x | 0.007€� / 0.18 MM | 0.025€� / 0.64 MM | 7.4 LB / 3,4KG |
| 11€™ | 3x | 0.008€� / 0.20 MM | 0.025€� / 0.64 MM | 9.0 LB / 4,1KG |
| 11€™ | 2x | 0.009€� / 0.23 MM | 0.026€� / 0.66 MM | 11.2 LB / 5,1KG |
| 11€™ | 1x | 0.010€� / 0.25 MM | 0.026€� / 0.66 MM | 13.9 LB / 6,3KG |
| 11€™ | 0x | 0.011€� / 0.28 MM | 0.026€� / 0.66 MM | 16.0 LB / 7,3KG |
| 14€™ | 5x | 0.006€� / 0.15 MM | 0.028€� / 0.71 MM | 5.9 LB / 2,7KG |
| 14€™ | 4x | 0.007€� / 0.18 MM | 0.028€� / 0.71 MM | 7.4 LB / 3,4KG |
| 14€™ | 3x | 0.008€� / 0.20 MM | 0.028€� / 0.71 MM | 9.0 LB / 4,1KG |