Momoi
Regular price
KSh5,020.00
Regular price
Sale price
KSh5,020.00
Unit price
per
Sale
Sold out
Delivery 7 - 12 Working Days
Temporary delay in our standard delivery times is anticpated due to the Black Friday event
Delivery Time

Our delivery time typically ranges from 7 to 12 business days.

Please note that fishing rod orders may experience a slight delay of 2 - 4 business days due to the bulky nature of the item.
Delivery Fee

Delivery fees vary depending on order value

Order Value - Delivery Fee

Under Ksh 4,999 - Ksh 1,000
Ksh 5,000 to Ksh 14,999 - Ksh 500
Above Ksh 15,000 - Free Shipping
View full details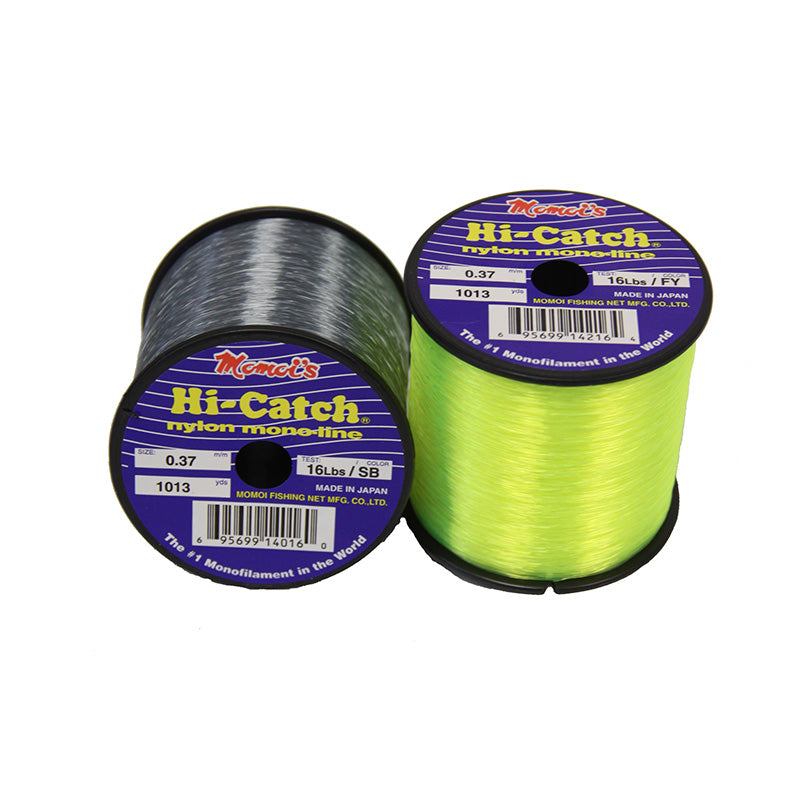 Product Description
Momoi Hi-Catch Monofilament Line; this nylon line is an extremely high-quality monofilament line produced using strict quality controls. It exhibits very low memory characteristics and is very soft and flexible while maintaining a high tensile strength-to-diameter ratio. Small diameter lines with tensile strengths result in larger reel capacity when fighting hard-charging game fish.
| Test LB | Diameter | 1/4 LB Spool | 1LB Spool | 2LB Spool | 5LB Spool |
| --- | --- | --- | --- | --- | --- |
| 6 | 0.23mm | 2,535 yds | | | |
| 8 | 0.26mm | 2,300 yds | | | |
| 10 | 0.29mm | 1,690 yds | | | |
| 12 | 0.31mm | 1,450 yds | | | |
| 16 | 0.37mm | 1,010 yds | | | |
| 20 | 0.40mm | 840 yds | | | |
| 25 | 0.50mm | 630 yds | 2,250 yds | | |
| 30 | 0.52mm | 500 yds | 2,020 yds | | |
| 40 | 0.60mm | 380 yds | 1,550 yds | | |
| 50 | 0.70mm | 280 yds | 1,120 yds | 2,240 yds | |
| 60 | 0.75mm | 245 yds | 1,110 yds | 2,020 yds | |
| 80 | 0.85mm | 188 yds | 750 yds | 1,500 yds | |
| 100 | 1.00mm | | 610 yds | 1,220 yds | |
| 130 | 1.20mm | | | 760 yds | 1,900 yds |
| 150 | 1.27mm | | | | 1,650 yds |
| 200 | 1.40mm | | | | 1,450 yds |
| 250 | 1.60mm | | | | 1,050 yds |
| 300 | 1.80mm | | | | 850 yds |