Megabass
Regular price
KSh74,000.00
Regular price
Sale price
KSh74,000.00
Unit price
per
Sale
Sold out
Delivery 7 - 12 Working Days
Temporary delay in our standard delivery times is anticpated due to the Black Friday event
Delivery Time

Our delivery time typically ranges from 7 to 12 business days.

Please note that fishing rod orders may experience a slight delay of 2 - 4 business days due to the bulky nature of the item.
Delivery Fee

Delivery fees vary depending on order value

Order Value - Delivery Fee

Under Ksh 4,999 - Ksh 1,000
Ksh 5,000 to Ksh 14,999 - Ksh 500
Above Ksh 15,000 - Free Shipping
View full details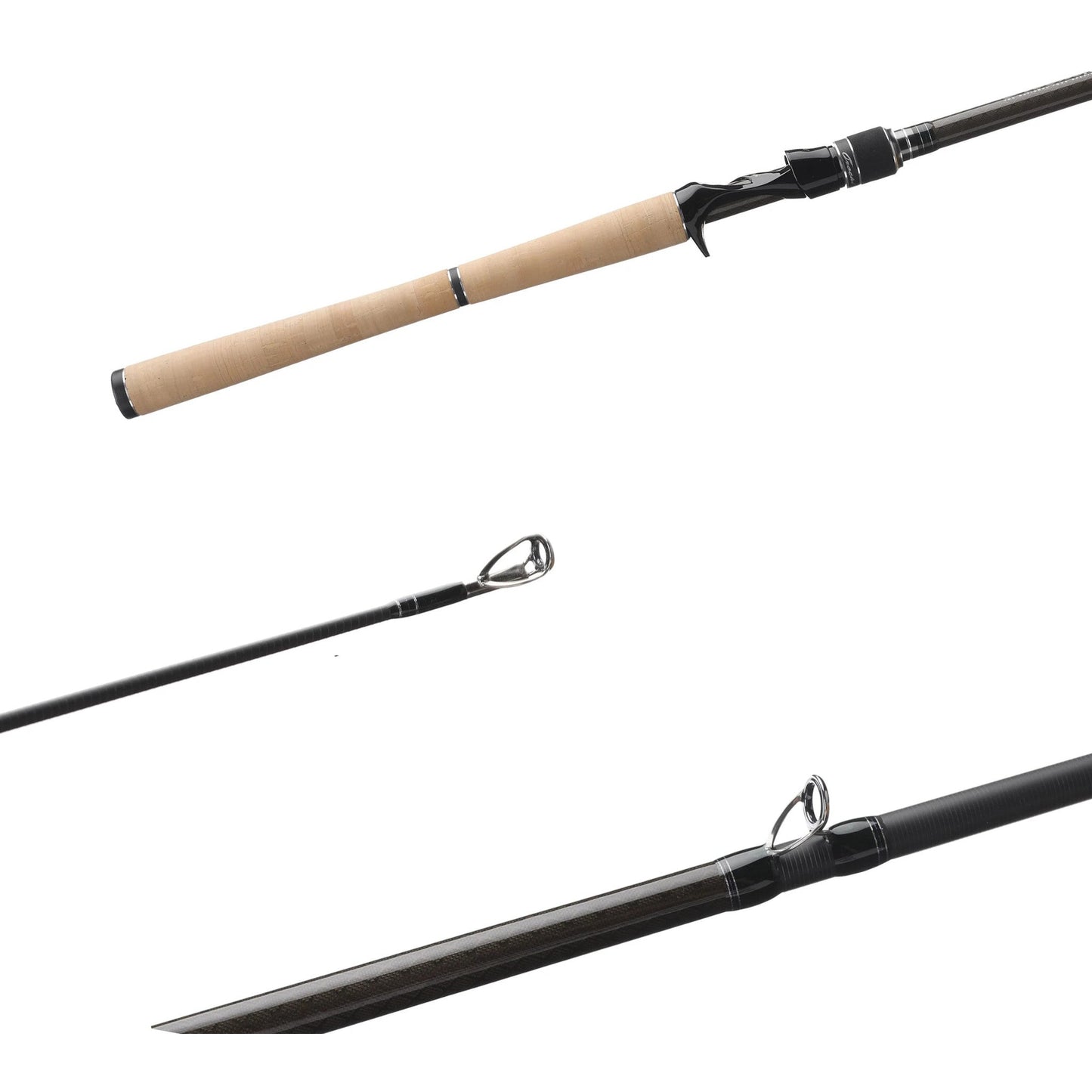 Product Description
Features:
The Megabass Orochi XX Casting series is a line of high-end rods that embody the intersection between Japanese rod technology and North American bass fishing.
Multi-tonnage construction: Each blank utilizes low-resin carbon of varying tonnage to match the desired bend-characteristics of each point to the ideal tonnage, each blank is able to realize ever-greater potential.
Spiral Architect Reel Seat: A Megabass-original designed for low-profile ergonomics, maximum blank exposure, structural integrity, and efficient grip-shifts when moving from casting to palming.
Micro-Pitch Taping: Un-sanded finishing tape features higher wrapping-density for increased durability and blank crispness.
Available in 8 models that cover a wide range of lures and techniques.
Since its debut in 2013, the Orochi XX series has embodied the intersection between Japanese rod technology and North American bass fishing. Dedicated to inspiring American anglers to new heights, the Megabass development team constantly pursues new technologies to ensure that each rod continues to earn its place in angler's hands. With the introduction of X47-ASL Metal Fiber Blanks ("kabt") in Japan in 2017, the Orochi XX began its next evolution. Now, after careful testing and refinement in Japan, the US, and Canada, the next stage of Orochi XX's journey is ready to begin.

Cherishing the trust anglers have placed in the Orochi XX, the current models have been redesigned to deliver clear performance gains and refinement-all while staying true to the core characteristics and intuitive feel of their predecessors.

Leveraging kabt™ (pronounced "kabutoh"), an innovative metal microfiber material, the newly designed Orochi XX demonstrates greater lifting power, torque, lightness, and crispness. The astonishing tensile strength and tenacious resilience of the kabt's metal microfiber material is woven into a layered, multi-axis arrangement that reinforces the butt-section of each blank, replacing the 1st generation's old carbon wrap to deliver a superior power-to-weight ratio and more decisive lifting power and control.

Each model utilizes low-resin carbon of varying tonnage throughout its blank. By matching the desired bend-characteristics of each point to the ideal tonnage, each blank is able to realize ever-greater potential-which translates into silky-smooth load transfer across all taper-types for intuitive casts and feel. Finished with new Micro Pitch Taping-which remains un-sanded for maximum durability and performance-sensitivity is further sharpened across all models, bringing new dimension to bottom-contact applications.

Each model has undergone subtle refinement to taper, bringing each application-specific model ever-closer to its ideal. Balance-points have been re-calibrated in response to the lighter overall weight of the new Orochi XX, painstakingly chosen through real-world testing. Megabass original Spiral Architect Reel Seat improves ergonomics and increases contact area with the exposed blank for better feel. Upgraded full-cork handles feature clean tapers and an accent ring for subtle polish. Upgraded Fuji Stainless SiC guides are double-wrapped on heavy-action models, and placement is tuned to the unique properties of each blank.

The new Orochi XX represents not only an evolution in performance and design, delivering greater sensitivity, lifting power, crispness and refinement-it also stands as a testament to Megabass' dedication to the American angler. Because every cast matters.

JERKBAIT SPECIAL (F4.5-611XX)
The Jerkbait Special was redesigned to more fully realize the core components of jerkbait fishing: imparting action, castability, and sensitivity.
Imparting action: Upgrading the taper from regular to fast action transmits angler input with greater speed and precision, meaning not only that less energy is required to get your Megabass jerkbait to dart and dance, but that subtle rod work is more accurately conveyed, adding delicate dynamism to your jerkbait approach. Coupled with improvements to the blank that result in a crisper feel with less oscillations (the blank returns to center-rest more quickly after each jerk), the Jerkbait Special sharpens and deepens the angler's connection, enabling a more complete exploration of the jerkbait's full potential.
Furthermore, with the rod's balance-point located at the reel, the rod is free to pivot with minimal effort, meaning you don't have to fight the blank's weight when attempting delicate slack line taps to get your Vision Oneten to tremble in place, or when fishing with an aggressive cadence over long practice and tournament days.
Castability
: In cold-water applications where the jerkbait is often a dominant presentation, long casts become increasingly important so as not to spook wary pre-spawn targets. With a short rear grip and increased overall length from 6 feet 8 inches to 6 feet 11 inches, the
Jerkbait Special
maximizes blank length to add distance to each cast. Additionally, the faster taper means that with a strong, technical cast, the
Jerkbait Special
will load farther into the meat of the blank, unleashing greater potential energy to drive superior casting distance.
Sensitivity
: With so many pre-spawn bites often detected by watching one's line for telltale ticks and movement, it is clear that more tools are required for detection. With a new, Megabass original Spiral Architect Reel Seat that exposes more of the blank, an upgraded kabt shape-memory metal microfiber wrap and a crisper overall feel, the new
Jerkbait Special
transmits light bites with greater clarity.
FLATSIDE SPECIAL (F4.5-70XX)
The first-generation Flatside Special quickly gained a dedicated following for its versatility and intuitive feel. The new
F
latside Special
preserves these key characteristics while improving sensitivity, casting distance and lifting power, delivering a clear performance upgrade.
The 
F
latside Special
's blank is discernibly crisper, getting back to center-rest more quickly after rod work and delivering greater sensitivity to transmit lure action and bottom-composition/structure with clarity. Improved blank material anchored by the powerful kabt™ metal microfiber wrap demonstrates greater stability when casting lures at the upper end of the
F
latside Special
's weight range, in addition to adding muscle to casts, hooksets, and fights with hard-charging keepers.
Smooth-bending regular taper transfers load with ease, preserving intuitive cast feel and absorbing surging fights to keep finicky trebles securely buried. A must-have model for the new and , in addition to top waters like the and Lastly, the
F
latside Special
is also an excellent option for those anglers who appreciate the blank's more traditional regular taper design.
DIABLO SPEC-R (F5-72XX)
Perhaps the most versatile model in the line-up, the first-generation Diablo Spec-R welcomed many advanced anglers to the Megabass rod family with its multi-faceted performance capability. In redesigning this model, sensitivity and lifting power were the key focal points. Many of the rod's target applications, such as spinnerbaits, bladed jigs, swim jigs, and vibration lures are now thrown with braided line-especially around vegetation. By leveraging new kabt™ metal microfiber material, the
D
iablo Spec-R
exhibits increased lifting power without adding weight, improving landing ratios in-and-around cover. Furthermore, heightened sensitivity cranks-up bite detection with presentations like swim jigs, where the only indicator is often slack knocked into your line.
SWINGFIRE (F5-72XXG)
Strictly focused on the highest-possible landing percentage with treble-hook baits, the redesigned Swingfire features a rebalanced glass/carbon mixture and improved backbone. By extending the blank's graphite further up the blank, the
Swingfire
gains new muscle in its midsection. As a result,
Swingfire 
now delivers more powerful hooksets, greater castability, distance and control throughout the fight.
The traditional forgiveness of glass is preserved in the upper-mid and tip section, providing the perfect amount of "give" to absorb chasing bites and last-ditch surges at the boat. However, the truly remarkable characteristic of the
Swingfire 
is not that it has the unique characteristics of both graphite and glass-it is the seamlessness with which these very different materials have been combined.
Swingfire 
offers the unique sensitivity and power of graphite with the forgiveness of glass, presenting an invaluable cranking tool that smoothly loads from one end to the other.
Unlike pure graphite models, hybrid and traditional glass rods often require a roll-cast motion instead of overhead or sidearm casts. However, the new
Swingfire 
casts more like a traditional graphite rod if you allow it to fully load, adding range to cast motions-and distance. Further, the
Swingfire's 
increased sensitivity enables quick detection of structure, bottom composition and subtle changes to lure action.
The
Swingfire 
is a must-have addition for anglers looking to modernize their traditional glass arsenal, and for those seeking to capture tough bites in cold water.
EMTF (F5-75XX)
Many anglers who fished the first-generation Extreme Mission Type F (EMTF) discovered a unique blank that produced bombing casts and excelled with treble-hook search baits like the Vibration-X Ultra and Dog-X Diamante. The next-generation EMTF builds upon this performance category, strengthening the bottom third of the blank for greater casting distance and fish-stopping power, while preserving the supple bend required to keep trebles securely buried throughout grueling, long-distance fights.
Additionally, the EMTF exhibits a crisper feel, reducing the blank oscillation and reverberation often felt between rod actions (jerks, pops, etc). With a shorter rod this may not be noticeable, but with EMTF's 7 feet 5 inch length so often employed for techniques that require rod work to impart action, a tighter blank offers greater control, requires less effort, and a creates a more direct connection between angler and lure.
BRAILLIST (F5.5-75XX)
Whereas the new EMTF zeroed-in on treble-lure applications, its new sibling, Braillist, chose bottom-contact applications as its raison d'etre, delivering a dramatic increase in sensitivity that allows anglers to "read" bottom composition with surprising clarity.
The
Braillist
's tip section has been stiffened just-so to enable precise presentation and control, while also displaying the requisite backbone to crawl and pop jigs out of potential snags. Under increasing load, the F5.5-powered blank bends smoothly to absorb the fight-unlike many traditional heavy-duty jig sticks that "shut off" abruptly in the mid-section. This enables
Braillist
to be fished with lighter line when needed, making this model a particularly deadly option for deep, clear water presentations where long casts, sensitivity, a fight-absorbing blank, and the ability to take up slack line quickly are paramount. Anchored by the kabt™ metal-microfiber butt section,
Braillist
has fish-stopping power to control long fights in open water, or pull hard-won targets from vegetation and cover.
The
Braillist
is a perfect pair for the bottom-contact swimbait, Texas rigs and football jigs.
Tip
: If you're someone who wants even more feedback, be sure to try braid + fluorocarbon leader. The lack of stretch means every "tick" is sharper, while the fluorocarbon leader will protect braid from deadly abrasion as it comes through rock and structure.
TOUR VERSATILE (F6-70XX)
The redesigned Tour Versatile is a powerful tournament-tested tool that bridges the gap between bottom contact and horizontal applications, covering the widest range of softbait presentations in the lineup. With a fast taper and compact-yet powerful-7 foot blank, the Tour Versatile is built to deploy swim jigs, smaller swimbaits like the Spark Shad 4 inch - 5 inch, heavy Texas rigs, jigs and heavy spinnerbaits.
Where the
Braillist 
is a lithe, technical fighter looking for openings to score precision points in the ring, Tour Versatile is a compact, musclebound brawler built to swing-hard. Drawing from the kabt's wellspring of power, the Tour Versatile's fast taper quickly transfers load to the lower 2/3 of the blank, leveraging next-gen metal microfiber technology to drive wide-gauged hooks home with peak force.
The Tour Versatile 's 7 foot combination of length, taper, and power are also well-suited to skipping belly-weighted 5 inch swimbaits under docks and throwing larger top-waters like the i-Jack and i-Loud. An essential addition to the arsenal of any tournament angler.
PERFECT PITCH (F7-72XX)
One of the most popular models within the series, the first-generation Perfect Pitch quickly gained a hardcore following among bottom-fishing and pitching experts alike for its sensitivity, power, precision, balance and maneuverability.
The redesigned Perfect Pitch adds knockout power and heightened sensitivity, taking this newest iteration to an entirely new level.
With an extra-fast taper and F7 (Force: 7) construction, the Perfect Pitch delivers the quickest, most devastating Tyson-esque hookset in the lineup. With its unique combination of power, quickness and sensitivity, the Perfect Pitch excels in bottom contact applications-the ideal heavyweight counterpart to the Braillist.
The finely-tuned tip section has the perfect load characteristics for accurate pitching, while retaining the ideal stiffness to work jigs accurately in and around bottom structure. Fuji Stainless SiC guides are double thread-wrapped for extra durability.