Rio Products
Regular price
KSh20,800.00
Regular price
Sale price
KSh20,800.00
Unit price
per
Sale
Sold out
Delivery 7 - 12 Working Days
Temporary delay in our standard delivery times is anticpated due to the Black Friday event
Delivery Time

Our delivery time typically ranges from 7 to 12 business days.

Please note that fishing rod orders may experience a slight delay of 2 - 4 business days due to the bulky nature of the item.
Delivery Fee

Delivery fees vary depending on order value

Order Value - Delivery Fee

Under Ksh 4,999 - Ksh 1,000
Ksh 5,000 to Ksh 14,999 - Ksh 500
Above Ksh 15,000 - Free Shipping
View full details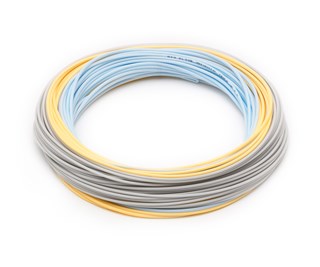 Product Description
RIO's Elite Technical Trout line features a long, fine front taper for the lightest of presentations and delicacy and is the ideal choice of line when fishing dry flies, nymphs, soft hackles and emergers to tricky eaters at distance. The line has a long head and back taper to increase loop control when carrying long lengths, and for making precise casts to rising fish, while the weight distribution makes it easy to turn over long leaders for technical feeders at range.

This line is built with RIO's low-stretch ConnectCore Plus, resulting in exceptionally smooth, durable fly lines, with the added benefits of incredible levels of sensitivity when casting and fishing, and providing enhanced detection of takes, faster hook sets, and far greater control when playing a fish. In addition, this line is built with SlickCast, RIO's proprietary coating technology, creating the slickest, most durable fly lines on the market. Lab tests show that lines built with SlickCast have the least amount of friction ever measured in a fly line.

The Technical Trout is the perfect line for dry flies and delicate presentations.
Long front taper turns over flies with delicacy and precision
Extended head and back taper increases loop control when carrying long lengths of line
Low-stretch ConnectCore Plus for the best in casting control, performance and smoothness
Built with RIO's exceptionally slick, durable SlickCast
Features RIO's SureFire tricolored measuring system for increased accuracy and distance control
TECH:
Connectcore Plus: Our next-generation, low-stretch core provides a radical increase in line durability, smoothness and performance. The highest-performing, longest-lasting freshwater lines in the world are built around ConnectCore Plus.
Slickcast: SlickCast creates the slickest, most durable coating on the market – producing the least amount of friction ever measured on a fly line.
Maxfloat Tip: MaxFloat Tip technology is a high float coating that floats more than twice as high as regular fly line tips, without any increase in diameter
FEATURES:
Surefire: RIO's triple color line marking system that makes it easy to gauge distances and load, with a quick glance.
Easyid: RIO's printed line marking system that allows anglers to quickly and easily identify each line.
Front Welded Loop: A neat, bulletproof loop welded at the front of the fly line for fast rigging to a leader.
Back Welded Loop: A neat, bulletproof loop welded at the end of the fly line for fast rigging to backing.